If you experience symptoms of diverticulitis, such as severe abdominal pain on the left side, fever, nausea, or changes in bowel movements, you should make an appointment with your doctor. If you have diverticulitis and your symptoms are getting worse or you are experiencing new symptoms, you should also contact your doctor. Ask your doctor about diet changes that you can make to alleviate your diverticulitis symptoms.
Continue Learning about Diverticulitis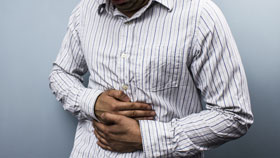 Diverticulitis occurs when diverticula (small, bulging pouches in the digestive tract) become infected or inflamed. Some signs of diverticulitis include severe pain, bloating that persists for weeks, constipation and blood in your ...
stool. Treatment includes changes in diet, antibiotics and surgery.
More