Most people with the diverticular disease do not have serious problems, but some people have severe symptoms. Diverticulitis can attack suddenly and cause:
Bleeding Serious infections Rips in pouches Fistula, which is a connection or passage between tissues or organs in the body that normally do not connect Blockage in your digestive system An infection in which the colon ruptures, causing stool to empty from the colon into the abdomen
This answer is based on source information from the National Institute of Diabetes and Digestive and Kidney Diseases.
Continue Learning about Diverticulitis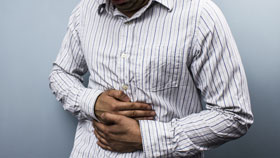 Diverticulitis occurs when diverticula (small, bulging pouches in the digestive tract) become infected or inflamed. Some signs of diverticulitis include severe pain, bloating that persists for weeks, constipation and blood in your ...
stool. Treatment includes changes in diet, antibiotics and surgery.
More