Diverticula are small outpouchings (pockets) in the intestine that are filled with waste. By age eighty, all of us have them, and by age sixty, 50 percent of us have them. So, how can you live with fewer symptoms and disease from your diverticula? Eat at least 5 grams of insoluble fiber a day. Insoluble fiber is found in many foods: grapefruit, oranges, grapes, raisins, dried fruit, sweet potatoes, peas, and zucchini, but especially in whole wheat bread. Even nuts have fiber, and despite the old wives tale that you should not have nuts if you have diverticulitis, not even one case of a chewed nut causing diverticulitis exists. So, eating fiber is a way you can live with a chronic condition that most of us have, and minimize the aging that that chronic condition causes.
Continue Learning about Diverticulitis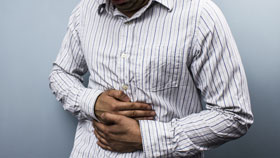 Diverticulitis occurs when diverticula (small, bulging pouches in the digestive tract) become infected or inflamed. Some signs of diverticulitis include severe pain, bloating that persists for weeks, constipation and blood in your ...
stool. Treatment includes changes in diet, antibiotics and surgery.
More