Diverticulosis may be an incidental finding on a routine colonoscopy or imaging such as a CT scan of the abdomen performed to investigate abdominal symptoms or other conditions.
Because most people do not have symptoms, diverticulosis is often found incidentally during evaluation for another condition or during a screening exam for polyps. Gastroenterologists can directly visualize the diverticula (more than one pouch, or diverticulum) in the colon during a procedure that uses a small camera attached to a lighted, flexible tube inserted through the rectum.

One of these procedures is a sigmoidoscopy, which uses a short tube to examine only the rectum and lower part of the colon. A colonoscopy uses a longer tube to examine the entire colon. Diverticulosis can also be seen using other imaging tests, for example by computed tomography (CT) scan or barium x-ray.

Continue Learning about Diverticulitis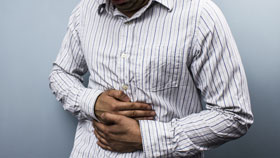 Diverticulitis occurs when diverticula (small, bulging pouches in the digestive tract) become infected or inflamed. Some signs of diverticulitis include severe pain, bloating that persists for weeks, constipation and blood in your ...
stool. Treatment includes changes in diet, antibiotics and surgery.
More