Diverticulitis is caused by little sacs in the intestines that become swollen and inflamed. When these sacs swell, they may cause a tunnel, or fistula, from the intestine to another internal organ, causing infection. Sometimes the sacs in the intestines may become so swollen that they burst, causing intestinal contents to infect the entire abdomen. Additionally, patients who suffer from multiple bouts of diverticulitis may develop scarring that blocks the passage of fecal matter.
Continue Learning about Diverticulitis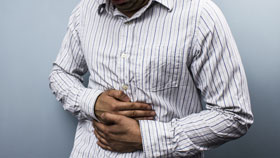 Diverticulitis occurs when diverticula (small, bulging pouches in the digestive tract) become infected or inflamed. Some signs of diverticulitis include severe pain, bloating that persists for weeks, constipation and blood in your ...
stool. Treatment includes changes in diet, antibiotics and surgery.
More