Oral or intravenous antibiotics, depending upon the severity of the diverticulitis and the findings are usually administered and are thought to reduce inflammation and limit the severity of the episode.
If you are suffering from diverticulitis, your doctor will likely prescribe an oral antibiotic. The antibiotics will cure the infection that causes diverticulitis. Additionally, your doctor may direct you to take an over-the-counter painkiller if you are in pain. If needed, your doctor may also prescribe a more powerful painkiller.
Continue Learning about Diverticulitis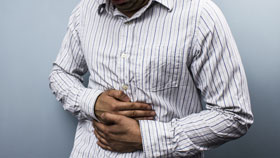 Diverticulitis occurs when diverticula (small, bulging pouches in the digestive tract) become infected or inflamed. Some signs of diverticulitis include severe pain, bloating that persists for weeks, constipation and blood in your ...
stool. Treatment includes changes in diet, antibiotics and surgery.
More