If you are caring for someone who exhibits any of the symptoms of diverticulitis, such as pain in the lower left side of the abdomen, fever, nausea, or changes in bowel movements, you should make an appointment with their doctor. In the meantime, the pain and fever associated with diverticulitis may be able to be managed with over-the-counter pain medication. Once you have this episode of diverticulitis under control, a high-fiber diet, regular exercise, plenty of fluids, and weight management can help reduce the risk for future episodes of diverticulitis.
Continue Learning about Diverticulitis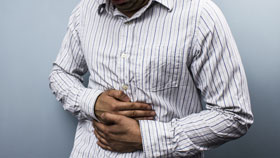 Diverticulitis occurs when diverticula (small, bulging pouches in the digestive tract) become infected or inflamed. Some signs of diverticulitis include severe pain, bloating that persists for weeks, constipation and blood in your ...
stool. Treatment includes changes in diet, antibiotics and surgery.
More