To qualify for Social Security Disability Insurance (SSDI) benefits, you must first have worked in jobs covered by Social Security. You must also have a medical condition that meets the Social Security Administration's (SSA) definition of disability. In addition to meeting the definition of disability established by SSA, you must have worked long enough -- and recently enough -- under Social Security to qualify for disability benefits. Social Security work credits are based on your total yearly wages or self-employment income. You can earn up to four credits each year.
Continue Learning about Disability Insurance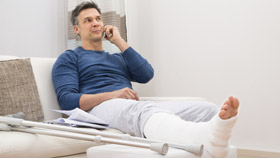 Disability insurance does not cover medical costs. Instead, it pays a monthly sum to replace lost income that you would have if you didn't have to miss work due to a disability. Short-term disability, often offered by employers, u...
sually provides benefits and income to people who have become temporarily disabled due to injury or illness. Long-term disability kicks in once the short-term coverage reaches its limit.
More