SSDI is short for Social Security Disability Insurance. In general, SSDI pays monthly cash benefits to people who are unable to work for a year or more because of a disability. After a 24-month waiting period, SSDI eligibility allows you to receive Medicare benefits even if you are under age 65.
Continue Learning about Disability Insurance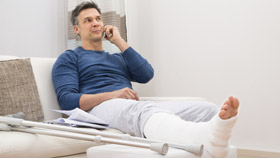 Disability insurance does not cover medical costs. Instead, it pays a monthly sum to replace lost income that you would have if you didn't have to miss work due to a disability. Short-term disability, often offered by employers, u...
sually provides benefits and income to people who have become temporarily disabled due to injury or illness. Long-term disability kicks in once the short-term coverage reaches its limit.
More