Social Security's Ticket to Work program supports the career development of individuals with disabilities who want to work and progress toward financial independence.

The Ticket program is a good fit for people who want to improve their earning potential and who are committed to long­term success in the workforce. Ticket to Work offers beneficiaries with disabilities access to meaningful employment with the assistance of employment service providers.

Participants in the program are allowed to keep their benefits while exploring employment opportunities, receiving vocational rehabilitation and gaining work experience. Your cash benefits, Medicaid or Medicare can continue throughout your transition to work, with protections in place to help you return to benefits if you find you are unable to continue working due to your disability.
Continue Learning about Disability Insurance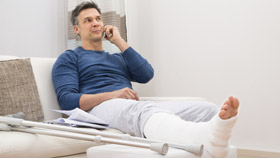 Disability insurance does not cover medical costs. Instead, it pays a monthly sum to replace lost income that you would have if you didn't have to miss work due to a disability. Short-term disability, often offered by employers, u...
sually provides benefits and income to people who have become temporarily disabled due to injury or illness. Long-term disability kicks in once the short-term coverage reaches its limit.
More