Social Security Disability Income (SSDI) pays wage replacement benefits for eligible people who have a disability, as defined by the Social Security Administration (SSA) guidelines, if they have paid Social Security (FICA) taxes for specified lengths of time (called work credits). There are two different earnings tests: a "recent work" test based on your age at the time you became disabled; and a "duration of work" test to show that you worked long enough under Social Security.

This benefit may also pay family members when a primary wage earner in the family becomes disabled or dies. Benefits are payable to those who meet SSDI eligibility requirements, such as disabled workers, widows, widowers, and children or adults who have been disabled since childhood. An adult must be unable to work for a consecutive period of 12 months or longer to qualify for SSDI benefits.

If you are approved for SSDI benefits, you will become eligible for Medicare coverage 24 months after you begin receiving benefit payments. Medicare coverage can be extremely important if disabilities make it impossible to work thereby limiting access to ongoing healthcare coverage. You may be Medicare eligible immediately if you have permanent kidney failure or amyotrophic lateral sclerosis (Lou Gehrig's disease).
Continue Learning about Disability Insurance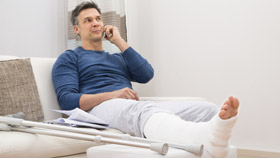 Disability insurance does not cover medical costs. Instead, it pays a monthly sum to replace lost income that you would have if you didn't have to miss work due to a disability. Short-term disability, often offered by employers, u...
sually provides benefits and income to people who have become temporarily disabled due to injury or illness. Long-term disability kicks in once the short-term coverage reaches its limit.
More