Disability.gov is a federal government website that provides comprehensive information about disability­related programs, services, policies, laws and regulations. The site links to thousands of resources from many different federal government agencies, state and local governments and nonprofit organizations across the country.

In addition to providing easy access to information, the website allows users to add new resources daily to 10 main subject areas: benefits, civil rights, community life, education, emergency preparedness, employment, health, housing, technology and transportation. You'll find information on topics such as Social Security benefits, job accommodations for employees with disabilities, accessible housing and organizations in your state that can help you find a job or live independently.

Disability.gov is an information and referral website. When you select a resource, you are linked to the authorized website of that topic. For example, if searching for information on the Medicare Insurance program, you will be linked to a new page and the application.

Information on volunteering, saving money and advocating for yourself can all be found under the Community Life section of the website. Need to file a discrimination lawsuit? You will find all the advice and tools you need to get started. If you are interested in retirement, the Retirement Estimator gives estimates based on your actual Social Security earnings record. Are you thinking of college? This very helpful website can offer guidance and links for information about scholarships and financial aid.

Disability.gov cuts through bureaucratic red tape and is a practical tool for getting what you want and finding what you need now.
Continue Learning about Disability Insurance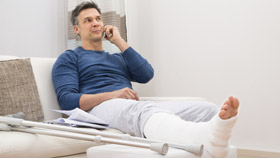 Disability insurance does not cover medical costs. Instead, it pays a monthly sum to replace lost income that you would have if you didn't have to miss work due to a disability. Short-term disability, often offered by employers, u...
sually provides benefits and income to people who have become temporarily disabled due to injury or illness. Long-term disability kicks in once the short-term coverage reaches its limit.
More