If you want to work through the Ticket to Work program, you can get the help you need from two types of providers: an employment network (EN) or your state's vocational rehabilitation agency. An EN is under contract with Social Security to provide free services to beneficiaries under the Ticket program. If you and an EN agree to work together, you will jointly develop an individual work plan.

You can also contact your state vocational rehabilitation agency, which will work with you to develop an individual plan to help you get a job. You are free to speak with as many service providers as you like; it is your choice to decide with which provider you wish to work. Once you have decided which service provider is right for you, learn more about how you can find satisfaction in the Ticket to Work program by exploring its website.
Continue Learning about Disability Insurance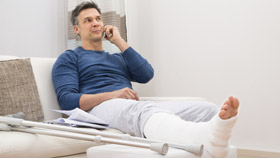 Disability insurance does not cover medical costs. Instead, it pays a monthly sum to replace lost income that you would have if you didn't have to miss work due to a disability. Short-term disability, often offered by employers, u...
sually provides benefits and income to people who have become temporarily disabled due to injury or illness. Long-term disability kicks in once the short-term coverage reaches its limit.
More