If you have a cancer diagnosis, you may qualify for Social Security Disability benefits. The Social Security Administration (SSA) offers financial assistance in the form of Social Security Disability benefits. However, a cancer diagnosis does not automatically make you eligible for SSA benefits. You have to apply.
Continue Learning about Disability Insurance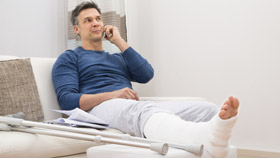 Disability insurance does not cover medical costs. Instead, it pays a monthly sum to replace lost income that you would have if you didn't have to miss work due to a disability. Short-term disability, often offered by employers, u...
sually provides benefits and income to people who have become temporarily disabled due to injury or illness. Long-term disability kicks in once the short-term coverage reaches its limit.
More