Fortunately, only rarely does this need to be done. There are a few conditions that might affect a newborn which can lead to an interruption of the blood supply to the small intestine. If not rapidly corrected, the area of affected bowel may die and need to be removed. Fortunately, we can survive with less intestine than we start with. Also, newborns will have growth of the rest of their intestines as they also grow. This should, in most cases compensate for the part of the bowel removed.
There are a couple reasons why an infant might need a small bowel resection. Most of which are related to congenital issues-problems they are born with-that impacts the function of the bowel in that area; for example, a twisted bowel or if the intestines formed outside the abdominal wall in utero. If your baby has had any part of their intestine resected, it is important to discuss with your doctor and neonatal dietitian whether the amount removed will impact her digestion and ability to absorb nutrients. If it does, the team will figure out an alternate route of nutrition and/or vitamin supplementation that will support your child's growth.
Continue Learning about Digestive Health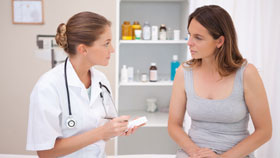 The digestive system includes all parts of the body that process food and expel waste, from your mouth to the end of your digestive tract. Diseases of the gastrointestinal tract prevent your body from effectively using the food yo...
u eat. Learn more about digestive health from our experts.
More