Blame it on bile. Bile secreted from the liver meets the food just past the stomach and then it treats your waste like a wooden porch: It stains it greenish brown.
If it's not that color, then treat your poop like a mood ring-a different color is an indictor of something else going on in your body.
Green bowel movements signify rapid movement of food through the intestines or the digestion of blue or black foods.


White-colored poop (yes, the poop actually looks this color) means that the bile from the liver is not entering your gut and you need to see a doctor.


Red-colored poop usually means you ate beets, but could also be blood from the large intestine.


Black-colored poop means you are taking iron pills or your stomach ulcer is bleeding again.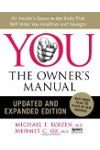 Continue Learning about Digestive Health