Dr. Oz, Vice-Chair and Professor of Surgery at Columbia University, says "If you don't have any bile, your poop will turn white. What makes the poop brown is the bile. It's what allows your body to surround fats and absorb them healthily. It's like the soap of our intestines. It hatches to be green. So as it gets metabolized through the bowel, it turns brown."
What could be the cause of red poop? "If you've got red poop, a lot of times that's because you've had beets or red Jell-O," Dr. Oz says. "But red poop can also mean blood. It doesn't take a lot of blood to make it red but if you've got blood in your poop, you've got to get someone to look at you."
Continue Learning about Digestive Health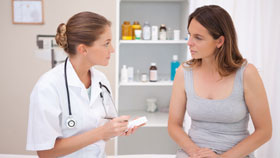 The digestive system includes all parts of the body that process food and expel waste, from your mouth to the end of your digestive tract. Diseases of the gastrointestinal tract prevent your body from effectively using the food yo...
u eat. Learn more about digestive health from our experts.
More