The appendix is a small pouch located near the junction of the small and large intestine. It is not completely understood why we have an appendix or what function it may serve. One thought is that the appendix may have had a more important function at some point in human evolution and that it is now simply an evolutionary remnant. Another thought is that the appendix might play a part in building the immune system. We know that the appendix contains a lot of lymphatic tissue (tissue that aids the immune system by making antibodies) and this immune system tissue may play a role in our ability to fight infection. Much like the tonsils (which also contain a lot of lymphatic tissue), it is clear that you can live a healthy life without your appendix.

Continue Learning about Digestive Health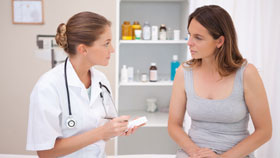 The digestive system includes all parts of the body that process food and expel waste, from your mouth to the end of your digestive tract. Diseases of the gastrointestinal tract prevent your body from effectively using the food yo...
u eat. Learn more about digestive health from our experts.
More