Fatty liver is the most common cause of liver blood test abnormalities.
While excess alcohol intake can cause fatty liver, the most common cause by far is what is called non-alcoholic fatty liver disease or NAFLD. Most of the time, the fat does not damage the liver. However, in approximately ten percent of people with fatty liver, the fat becomes associated with inflammation. This is called non-alcoholic steato hepatitis (NASH). Steato means fat and hepatitis means inflammation. Some people with NASH develop cirrhosis, which occurs when liver tissue is replaced by scar tissue. Complications from cirrhosis can be fatal.
Continue Learning about Digestive Health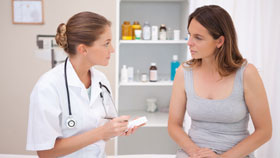 The digestive system includes all parts of the body that process food and expel waste, from your mouth to the end of your digestive tract. Diseases of the gastrointestinal tract prevent your body from effectively using the food yo...
u eat. Learn more about digestive health from our experts.
More