Poop floats because of what's in it. In this video, Christine Bouchard, MD, a colorectal surgeon at Chippenham & Johnston-Willis Hospitals, reveals what foods most commonly cause stools to float.
Poop (feces or stool) floats because of an increased content of gas or water (or both).
This question was addressed in a prestigious medical journal, the New England Journal of Medicine (May 4, 1972) by Dr. Michael Levitt from the University of Minnesota, who is an authority on intestinal "gas."
To float, stools must contain gas. Whether the stool is a "floater" or a "sinker" depends upon differences in gas rather than fat content. A high stool gas content (and hence a floating stool) is related to gas (methane) content.
Thus, stools float because of an increased content of gas or water (or both). There is nothing wrong with "floaters."
Continue Learning about Digestive Health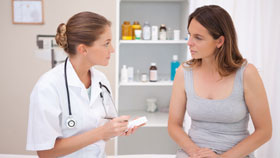 The digestive system includes all parts of the body that process food and expel waste, from your mouth to the end of your digestive tract. Diseases of the gastrointestinal tract prevent your body from effectively using the food yo...
u eat. Learn more about digestive health from our experts.
More