In this video, David Terschluse, MD from Oak Hill Hospital, discusses when it's necessary to remove a gallbladder.
A patient would need a cholecystectomy if he is having gallbladder issues or disease. Get the details in this video from Leonardo Espinel, MD from StoneSprings Hospital Center.
The most common reason to have your gallbladder removed is because of pain. Stones in your gallbladder can block it from emptying the bile it stores, which is thought to cause the pain. By removing the gallbladder, you will no longer have the pain. Some people have gallbladder attacks that last for minutes to hours but go away. If they keep having these attacks, then surgery to remove the gallbladder is needed. Some people have such a severe attack that they need urgent surgery to remove the gallbladder to prevent complications such as gangrene or perforation of the gallbladder.
The main reason for gallbladder removal is symptomatic gallstones. Many people have gallstones without any symptoms. But once people experience symptoms they are likely to experience them again, so gallbladder removal is indicated. Common symptoms include dull discomfort in the right upper quadrant of abdomen (sometimes mid-abdomen and pain can radiate to right shoulder). Pain most often is steady and associated with sweating, nausea and vomiting. This often lasts 30 minutes to a few hours and then subsides. This is called biliary colic. Some people develop inflammation of the gallbladder with fever and severe pain as their first symptoms. In this case also, the gallbladder will be removed.
Inflammation, disease, blockages or gallstones in the gallbladder can lead to severe abdominal pain. Depending on the situation, your doctor may decide that surgery is the best treatment option. Single-site gallbladder surgery with robot assistance can remove the gallbladder with minimum wear-and-tear on your body.
Continue Learning about Digestive Health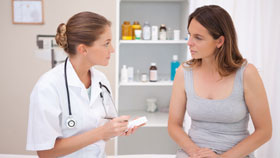 The digestive system includes all parts of the body that process food and expel waste, from your mouth to the end of your digestive tract. Diseases of the gastrointestinal tract prevent your body from effectively using the food yo...
u eat. Learn more about digestive health from our experts.
More