Patients with symptoms of end stage liver disease may need a liver transplant. In this video, Preston Foster, MD of Methodist Specialty and Transplant Hospital explains what these symptoms are, as well as causes of liver disease.
A liver transplant can make sense when cancer or cirrhosis with complications is the diagnosis. But when cirrhosis alone is the problem, such a drastic measure probably isn't needed, as transplant surgeon Dr. Tomoaki Kato explains in this video.
Cirrhosis, or scarring of the liver, is the most common reason for liver transplantation. Cirrhosis may result from alcohol abuse, hepatitis B or C infection, certain autoimmune diseases, fatty liver, or certain hereditary liver diseases. Other reasons for liver transplantation include sudden liver failure or liver cancer that has not spread outside the liver.

The most common reason for a child to need a liver transplant is biliary atresia, in which the bile ducts are missing, damaged, or blocked. Blocked bile ducts cause bile to back up in the liver, causing cirrhosis.
Continue Learning about Digestive Health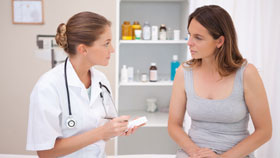 The digestive system includes all parts of the body that process food and expel waste, from your mouth to the end of your digestive tract. Diseases of the gastrointestinal tract prevent your body from effectively using the food yo...
u eat. Learn more about digestive health from our experts.
More