Toxic megacolon is a very serious complication of inflammatory bowel disease (ulcerative colitis and Crohn's disease) and infections of the colon. In toxic megacolon, the colon dilates and loses its ability to contract and function normally. Gas builds up in the intestinal tract causing swelling, tenderness and pain in the abdomen, as well as fever, rapid heartbeat, diarrhea and shock.
If left untreated, toxic megacolon can lead to perforation (a hole) of the colon, total body infection (sepsis), bleeding and blood loss and even death.
Call your doctor if you notice any symptoms of toxic megacolon including:
frequent and/or bloody diarrhea
swelling in your abdomen
fever
rapid heartbeat
symptoms of shock, including a weak pulse, trouble breathing, clammy skin and confusion
Treatment involves therapies to reduce the air in the colon, antibiotics to stop infection, intravenous fluids to prevent dehydration and shock, and possibly surgery.
Continue Learning about Digestive Health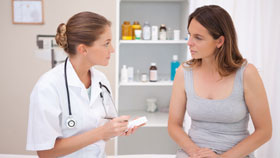 The digestive system includes all parts of the body that process food and expel waste, from your mouth to the end of your digestive tract. Diseases of the gastrointestinal tract prevent your body from effectively using the food yo...
u eat. Learn more about digestive health from our experts.
More