The stomach is a hollow organ in the upper abdomen, just under the ribs. Its primary function is to receive food from the esophagus, digest it and turn it into liquid/semi-liquid and send it through the lower digestive tract.
The stomach has five layers:
Inner layer: lining of the stomach
Submucosa: support tissue for inner layer
Muscle layer: muscles of the stomach
Subserosa: support tissue for the outer layer
Outer layer: outer lining, also called serosa
Continue Learning about Digestive Health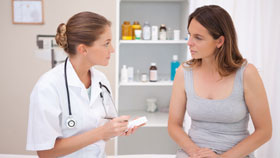 The digestive system includes all parts of the body that process food and expel waste, from your mouth to the end of your digestive tract. Diseases of the gastrointestinal tract prevent your body from effectively using the food yo...
u eat. Learn more about digestive health from our experts.
More