In this video, Jigneshkumar Patel, MD from Medical Center of Trinity describes silent reflux and its symptoms.
Silent reflux is acid reflux that presents with throat complaints rather than heartburn, so many don't realize they are actually suffering from acid reflux. Watch ENT surgeon Moshe Ephrat, MD, explain what silent reflux is and what causes it.
Silent reflux is a common condition, but one that can lead to esophageal cancer. In this video, laryngologist Jamie Koufman, director of the Voice Institute of New York tells Dr. Oz how reflux can do so much damage.
Continue Learning about Digestive Health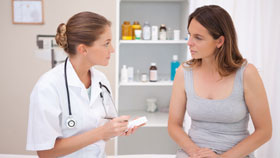 The digestive system includes all parts of the body that process food and expel waste, from your mouth to the end of your digestive tract. Diseases of the gastrointestinal tract prevent your body from effectively using the food yo...
u eat. Learn more about digestive health from our experts.
More