After a liver transplant, medications to prevent rejection such as prednisone, Neoral, or Prograf can affect your brain. Prednisone can cause severe, uncontrollable anxiety, restlessness, or inability to sleep. Some patients feel so energized from prednisone that they feel like spending lots of money, never need to sleep, talk all the time, have unrealistic plans for the future, or are very irritable and moody. These are still symptoms of mania. On the other hand, some patients feel the exact opposite --- sad, weepy, no control over emotions or apathy.

Neoral or Prograf in some patients can cause abnormal muscle movements or twitching which can progress to seizures. If this happens we change your medication and may add an anti-seizure medication such as Keppra. Patients with prior history of seizures need to be especially careful and work with their neurologist. A fine hand tremor is noted by many patients and is harmless; this will go away as the dose of anti-rejection medication is reduced. Memory and concentration may be affected as well and it may take several weeks before you can read your favorite newspaper or book. Some word finding difficulties and memory lapses may persist for some time after transplant.
Continue Learning about Digestive Health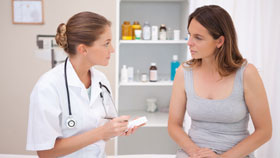 The digestive system includes all parts of the body that process food and expel waste, from your mouth to the end of your digestive tract. Diseases of the gastrointestinal tract prevent your body from effectively using the food yo...
u eat. Learn more about digestive health from our experts.
More