One complication of acid reflux, known as reflux esophagitis, is inflammation that occurs when acid and pepsin, released from the stomach, erode areas of the mucosa, the surface layer of cells that line the esophagus. Besides the burning sensation of simple heartburn, patients with esophagitis may also complain of pain behind the breastbone spreading into the back or up to the neck, jaw, or even the ears. The pain can be so intense that you have trouble swallowing and even think you are having a heart attack.

With esophagitis, food may feel as if it sticks in your throat before going down the gullet. Hot drinks are unpleasant to swallow, and you may have some nausea. You might also regurgitate some acid fluid into your throat, resulting in a cough. The inflammation of the esophagus can even lead to bleeding. Upper gastrointestinal (GI) endoscopy can confirm the diagnosis of esophagitis and identify any associated ulcers or strictures. Bleeding ulcers in an inflamed esophagus may require aggressive treatment, such as blood transfusions and, to stop the bleeding, a probe passed through an endoscopic tube to apply electricity, heat, or clips, or to inject blood vessel-constricting agents into the bleeding site.
Continue Learning about Digestive Health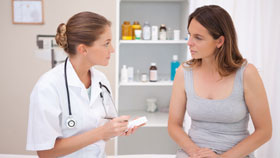 The digestive system includes all parts of the body that process food and expel waste, from your mouth to the end of your digestive tract. Diseases of the gastrointestinal tract prevent your body from effectively using the food yo...
u eat. Learn more about digestive health from our experts.
More