Mesenteric (intestinal) artery disease is a condition that develops when the arteries in the abdomen that supply either the kidneys or the intestines become narrowed, or blocked, by an accumulation of a fatty substance called plaque. As plaque builds up inside the artery walls, the arteries can become hardened and narrowed (a process called atherosclerosis). Atherosclerosis affects up to 35 percent of Americans, and can cause narrowing (also called stenosis) of any of the arteries throughout the body. As atherosclerosis affects the whole body, people with renal artery narrowing often have other cardiovascular conditions such as carotid artery disease and heart disease.
In mesenteric artery disease, the arteries supplying blood to the intestines are narrowed; people with this condition lose weight and experience severe pain when they eat.
Continue Learning about Digestive Health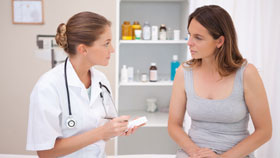 The digestive system includes all parts of the body that process food and expel waste, from your mouth to the end of your digestive tract. Diseases of the gastrointestinal tract prevent your body from effectively using the food yo...
u eat. Learn more about digestive health from our experts.
More