Esophageal dysplasia is a precancerous condition that doctors can only diagnose by examining tissue samples under a microscope. When dysplasia is seen in the tissue sample, it is usually described as being "high-grade," "low-grade" or "indefinite (or indeterminate) for dysplasia." In high-grade dysplasia, abnormal changes are seen in many of the cells and there is an abnormal growth pattern of the cells. Low-grade dysplasia means that there are some abnormal changes seen in the tissue sample but the changes do not involve most of the cells, and the growth pattern of the cells is still normal. "Indefinite (or indeterminate) for dysplasia" simply means that the pathologist is not certain whether changes seen in the tissue are caused by dysplasia.

Other conditions, such as inflammation or swelling of the esophageal lining, can make cells appear dysplastic when they may not be. It is advisable to have any diagnosis of dysplasia confirmed by two different pathologists to ensure that this condition is present in the biopsy. If dysplasia is confirmed, your doctor might recommend more frequent endoscopies, or a procedure that attempts to destroy or remove the Barrett's tissue, or esophageal surgery. Your doctor will recommend an option based on how advanced the dysplasia is and your overall medical condition.
Continue Learning about Digestive Health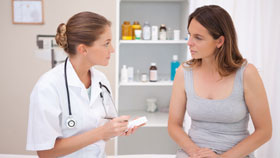 The digestive system includes all parts of the body that process food and expel waste, from your mouth to the end of your digestive tract. Diseases of the gastrointestinal tract prevent your body from effectively using the food yo...
u eat. Learn more about digestive health from our experts.
More