Colon resection surgery, or colectomy, has to do with the removal of a cancerous portion of the colon. Learn more about this cancer with David Terschluse, MD from Oak Hill Hospital, in the video.
Colectomy is an operation to remove all or part of the colon. When only part of the colon is removed, it is called a partial colectomy. In an open colectomy, one long incision is made in the wall of the abdomen and doctors can see the colon directly. In a laparoscopic-assisted colectomy, several small incisions are made and a thin, lighted tube attached to a video camera is inserted through one opening to guide the surgery. Surgical instruments are inserted through the other openings to perform the surgery.
This answer is based on source information from the National Cancer Institute
Continue Learning about Digestive Health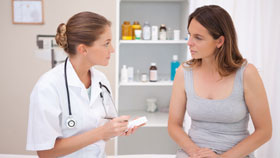 The digestive system includes all parts of the body that process food and expel waste, from your mouth to the end of your digestive tract. Diseases of the gastrointestinal tract prevent your body from effectively using the food yo...
u eat. Learn more about digestive health from our experts.
More