Bilirubin is a product of breakdown found in the blood stream and is responsible for a person looking yellow or jaundiced if it builds up too high in the body. It can come from many sources and is filtered out of the body by a person's liver.
Bilirubin is a pigment that comes from the breakdown of red blood cells. It creates the yellow color in bile, the fluid made by your liver and stored in your gallbladder. About 25% of gallstones are "pigmented stones," formed when there is too much bilirubin in bile.
High levels of bilirubin in the body can also cause the skin and the whites of the eyes to look yellow, a condition known as jaundice. Call your doctor if your skin or the whites of your eyes appear yellow.
Bilirubin is the yellow breakdown product of heme catabolism (heme is the principal component of hemoglobin, present in red blood cells). Bilirubin is excreted in bile, and its levels are elevated in certain diseases.
Continue Learning about Digestive Health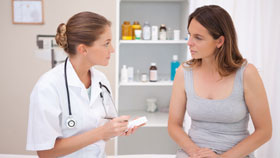 The digestive system includes all parts of the body that process food and expel waste, from your mouth to the end of your digestive tract. Diseases of the gastrointestinal tract prevent your body from effectively using the food yo...
u eat. Learn more about digestive health from our experts.
More