What is the best food to eat for digestive health?
What we eat affects how we feel. How food moves through our digestive tract and the secretions it produces are affected by the protein, carbohydrate and fat composition of our foods. Because 70 percent of the cells that make up the body's immune system are found in the wall of the gut, what we eat also may affect the body's immune response. Moreover, the normal bacteria in our large intestine contribute to bloating and gas production when carbohydrates, such as lactose and fructose, are not completely absorbed in the small intestine.
Eating whole foods instead of refined or processed foods is good for everyone. Processed foods are convenient, but to make them taste better, manufacturers use chemical additives and high fructose corn syrup, a sweetener that is often not absorbed well, resulting in bloating and abdominal discomfort.
Raw and fermented foods are the most important food sources you can eat to keep your digestive system running smoothly. In this video, integrative gastroenterologist Robynne Chutkan, MD, describes the foods you should eat for good digestive health.
The best foods for your digestive health are those that contain a lot of fiber, like fresh fruits and vegetables. In this video, gastroenterologist Roshini Raj, MD, explains why fiber is so important to maintaining a healthy digestive system.
Continue Learning about Digestive Health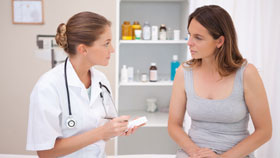 The digestive system includes all parts of the body that process food and expel waste, from your mouth to the end of your digestive tract. Diseases of the gastrointestinal tract prevent your body from effectively using the food yo...
u eat. Learn more about digestive health from our experts.
More