The appendix is a worm-like organ that hangs off of the large bowel in the lower right side of the abdomen. It does not seem to serve any critical function. Some experts believe it may have been an important part of the immune system but over time lost its importance.
The appendix is a small, finger-like pouch that sticks out from the cecum (the first part of the large intestine near the end of the small intestine) in the lower portion of the abdomen. A healthy appendix generally averages 10 cm in length. The appendix is a small tube of tissue that extends from the cecum, a pouch at the beginning of the large intestine. Appendicitis refers to inflammation of this tube of tissue. Watch me discuss the appendix and appendicitis.


Continue Learning about Digestive Health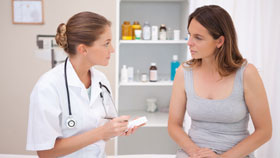 The digestive system includes all parts of the body that process food and expel waste, from your mouth to the end of your digestive tract. Diseases of the gastrointestinal tract prevent your body from effectively using the food yo...
u eat. Learn more about digestive health from our experts.
More