Eosinophilic (allergic) esophagitis is a disease characterized by the presence of eosinophils, a type of white blood cell, in the wall of the esophagus. Eosinophils, which are associated with allergic reactions, stimulate inflammation. One symptom of the condition is heartburn, although episodes of dysphagia (difficulty swallowing), the feeling of food or pills sticking in the esophagus, is more characteristic. The disease often occurs in children and young adults, many of whom also have allergies, or asthma.

A first-line treatment is to try to eliminate under the direction of an allergist, the foods most likely to cause allergies such as peanuts, other types of nuts, shellfish, and wheat or any other food that has caused an allergic reaction in the past. Eosinophilic esophagitis often responds to a course of the steroid fluticasone (Flovent) taken by mouth, although in some cases symptoms may also improve with a proton pump inhibitor (PPI) such as omeprazole (Prilosec) or lansoprazole (Prevacid).
Continue Learning about Digestive Health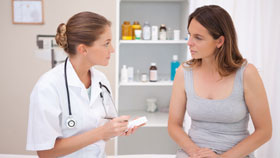 The digestive system includes all parts of the body that process food and expel waste, from your mouth to the end of your digestive tract. Diseases of the gastrointestinal tract prevent your body from effectively using the food yo...
u eat. Learn more about digestive health from our experts.
More