The colonoscope is the instrument a doctor (usually a gastroenterologist) or technician will use to view the inside of the colon and rectum. It is a long flexible tube that has a lighted tip and a camera and when it is inserted into the rectum it magnifies the folds and curves of the colon onto a TV screen. When something looks suspicious it can be sampled for testing. Precancerous colorectal polyps - stalks of tissue that grow from cells in the colon's lining - can be snipped off at its neck right then and there.
This content originally appeared on
doctoroz.com
A colonoscope is a thin, tube-like instrument used to examine the inside of the colon. A colonoscope has a light and a lens for viewing and may have a tool to remove tissue.

This answer is based on source information from the National Cancer Institute.
Continue Learning about Digestive Health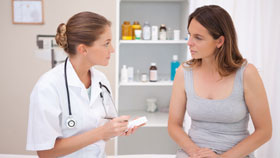 The digestive system includes all parts of the body that process food and expel waste, from your mouth to the end of your digestive tract. Diseases of the gastrointestinal tract prevent your body from effectively using the food yo...
u eat. Learn more about digestive health from our experts.
More