The first neuroendocrine tumor was recognized by a German pathologist by the name of Siegfried Oberndorfer, who in 1907 coined the term "carcinoid" or "carcinoma-like", recognizing the relatively slow malignant behavior of this unusual tumor compared to the more common cancer arising from the intestine. The term "carcinoid" tumor remains in common use today and refers to a tumor arising from enterochromaffin cells, which are neuroendocrine cells in the gastrointestinal tract. Carcinoids usually secrete vasoactive substances such as serotonin, histamine and others, which can occasionally cause symptoms of flushing and diarrhea (Carcinoid Syndrome).
Continue Learning about Digestive Health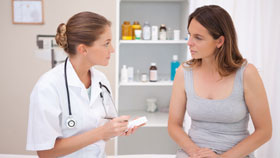 The digestive system includes all parts of the body that process food and expel waste, from your mouth to the end of your digestive tract. Diseases of the gastrointestinal tract prevent your body from effectively using the food yo...
u eat. Learn more about digestive health from our experts.
More