An intussusception is a serious condition in which one part of the intestine slides into another, like the pieces of a telescope. It is the most common abdominal emergency in children younger than 2, and usually occurs between the ages of six months and three years old (although it can happen with children as old as six years). If left untreated, it can cause serious damage to the intestines, intestinal infection and internal bleeding. It can be life-threatening.
In infants, symptoms of intussusception may include intense colic-like crying and drawing up of their knees from the pain. Other symptoms of intussusception may include:
swelling in the abdominal area
nausea and vomiting
vomiting bile (a yellow-green liquid)
stools with blood and mucus
fever
shock (pale color, lethargy, sweating)
Imaging tests including x-rays and ultrasounds can be used to diagnose intussusception. To treat intussusception, doctors may use an enema to push the intestine back in place or surgery to correct the problem.
Continue Learning about Digestive Health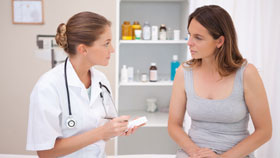 The digestive system includes all parts of the body that process food and expel waste, from your mouth to the end of your digestive tract. Diseases of the gastrointestinal tract prevent your body from effectively using the food yo...
u eat. Learn more about digestive health from our experts.
More