Gallbladder removal is commonly performed with minimally invasive -- either laparoscopic or robotic -- surgery. This results in smaller incisions, which can help with less pain after surgery and a faster recovery.

The gallbladder is connected to a structure called the bile duct by a small tubular duct called the cystic duct. There is also a small blood vessel to the gallbladder called the cystic artery. During surgery, these are closed off usually with metal surgical clips and then the gallbladder is freed from its attachments to the liver and removed.
Gallbladder surgery -- also known as a cholecystectomy -- today is usually performed laparoscopically, with patients under general anesthesia.
In this procedure, a doctor makes a tiny incision in the area of your belly button and inserts a thin scope (the laparoscope). Your doctor may first fill your abdomen with carbon dioxide to improve visibility of your internal organs.
Next your doctor may make two more very tiny incisions in your right upper quadrant of your abdomen, where your gallbladder is located. Into these tiny holes your doctor may insert long, thin instruments to tease the gallbladder away from other structures and remove it through one of those tiny openings.
Continue Learning about Digestive Health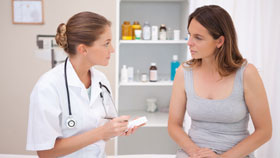 The digestive system includes all parts of the body that process food and expel waste, from your mouth to the end of your digestive tract. Diseases of the gastrointestinal tract prevent your body from effectively using the food yo...
u eat. Learn more about digestive health from our experts.
More