During a gallbladder attack, a gallstone blocks the outlet of the gallbladder as it squeezes, and you may feel pain. This pain is usually in the right upper abdomen, just beneath the ribs, but may radiate to the back, side or shoulder blade on the right and is known as biliary colic. Biliary colic generally begins 30 to 60 minutes after a meal, lasts from minutes to hours, and may be accompanied by nausea and/or vomiting. Many people learn, through trial and error, to avoid certain foods (especially fatty foods), which trigger their pain. Over time, biliary colic often becomes more frequent and severe.
Continue Learning about Digestive Health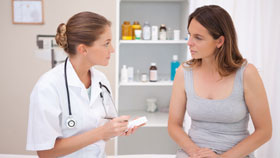 The digestive system includes all parts of the body that process food and expel waste, from your mouth to the end of your digestive tract. Diseases of the gastrointestinal tract prevent your body from effectively using the food yo...
u eat. Learn more about digestive health from our experts.
More