Hiccups are involuntary spasms of your diaphragm (the muscle at the base of your lungs that rises and falls as you breathe) that trigger sudden closure of your vocal cords.

Fortunately, these spasms are usually harmless and temporary. Everything from overeating to carbonated drinks, excess alcohol, and stress can cause hiccups, but chronic hiccups can signal an underlying medical condition, such as an intestinal blockage or gastroesophageal reflux disease (chronic acid reflux), also commonly referred to as GERD.
Hiccups are caused by spasms of the diaphragm muscle. Learn more about this topic in this video by Dr. Oz.



Continue Learning about Digestive Health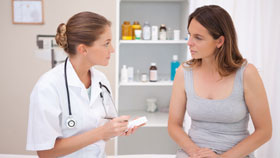 The digestive system includes all parts of the body that process food and expel waste, from your mouth to the end of your digestive tract. Diseases of the gastrointestinal tract prevent your body from effectively using the food yo...
u eat. Learn more about digestive health from our experts.
More