Caring for someone with esophageal ulcers requires you to help the person make choices that will promote ulcer healing. First, make sure the person you are caring for takes their medication. Doctors may prescribe antibiotics, as well as medications that reduce or prevent acid production to cure esophageal ulcers. Not taking these medications can lead to ulcers becoming refractory, which means they will not heal. Also, look out for signs of complications. Complicated ulcers can be serious. Keep a watchful eye to be sure the person you are caring for does not have blood in their vomit or stool, changes in appetite, or sharp pain. Lastly, help the person you are caring for care for their GERD. Esophageal ulcers are often associated with this gastric disorder. Learn about GERD and how to prevent it through medication, diet changes, and lifestyle changes.
Continue Learning about Digestive Health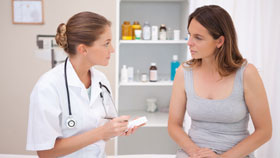 The digestive system includes all parts of the body that process food and expel waste, from your mouth to the end of your digestive tract. Diseases of the gastrointestinal tract prevent your body from effectively using the food yo...
u eat. Learn more about digestive health from our experts.
More