To help prevent ulcers caused by Helicobacter pylori (H. pylori), you should:
Wash your hands with soap and water after using the bathroom and before eating. Eat food that has been washed well and cooked properly. Drink water from a clean, safe source.
To help prevent ulcers caused by nonsteroidal anti-inflammatory drugs (NSAIDs), you should:
Stop using NSAIDs, if possible. Take NSAIDs with a meal, if you still need NSAIDs. Use a lower dose of NSAIDs. Ask your doctor about medicines to protect your stomach and duodenum while taking NSAIDs. Ask your doctor about switching to a medicine that won't cause ulcers. This answer is based on the source infromation from the National Institute of Diabetes and Digestive and Kidney Diseases.
Continue Learning about Digestive Health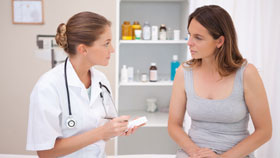 The digestive system includes all parts of the body that process food and expel waste, from your mouth to the end of your digestive tract. Diseases of the gastrointestinal tract prevent your body from effectively using the food yo...
u eat. Learn more about digestive health from our experts.
More