The easiest way to treat dyspepsia is through lifestyle changes. This mostly comes down to eating habits: eat smaller meals, eat more frequently, and avoid foods that can trigger an attack like greasy or spices foods, caffeinated or carbonated beverages, and alcoholic beverages. An overall healthier lifestyle that eliminates smoking and focuses on exercise and weight loss can also do wonders for reducing dyspepsia symptoms. If lifestyle changes don't work, there are a number of medications that may be used to treat dyspepsia. These medications may be available over-the-counter or by prescription, and they most commonly work by neutralizing or reducing stomach acid.
Continue Learning about Digestive Health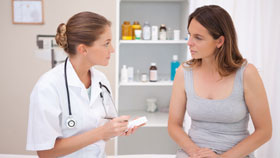 The digestive system includes all parts of the body that process food and expel waste, from your mouth to the end of your digestive tract. Diseases of the gastrointestinal tract prevent your body from effectively using the food yo...
u eat. Learn more about digestive health from our experts.
More