Colon polyps are very common and don't usually cause symptoms, but when they do, the symptom is blood in the stool.
Colon polyps are growths in the large intestine (colon) which usually grow very slowly over years. Most are non-cancerous (benign), but some become cancerous (malignant). Most - but not all - colon cancers begin as a polyp.
Blood in the stool may not be obvious to the naked eye (occult blood), in which case it is detected only by checking for hidden blood in the stool (fecal occult blood test). Other than rectal bleeding, most polyps don't cause symptoms, such as change of bowel habits or pain, unless they become quite large causing blockage of the colon. The larger the polyp, the greater the chance that it contains cancer.
Since most polyps don't cause symptoms, as people age, colonoscopy is recommended to find and remove them. This is called screening colonoscopy.
Continue Learning about Digestive Health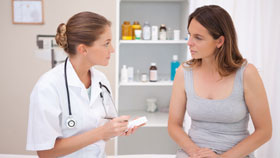 The digestive system includes all parts of the body that process food and expel waste, from your mouth to the end of your digestive tract. Diseases of the gastrointestinal tract prevent your body from effectively using the food yo...
u eat. Learn more about digestive health from our experts.
More