Many women state that they are constipated; it is important to determine whether they are referring to excessive straining; hard, lumpy stools; splinting; feeling of incomplete emptying; or infrequent stools. Women with a large rectocele may trap stool within this rectal pocket, which may lead to a feeling of incomplete emptying, and possibly soiling.
The most common symptoms of a rectocele are pelvic pressure, pelvic pain, and something protruding or bulging into the vagina. Some women have a hard time emptying their bowels due to the fact that when they strain to have a bowel movement, instead of the stool going out through the anus, the stool bulges up into this rectocele pouch into the vagina. Some women have to put their fingers in the vagina to push down to have a bowel movement as well as some women have to push on their perineum or move in certain positions to help empty their bowels.
Continue Learning about Digestive Health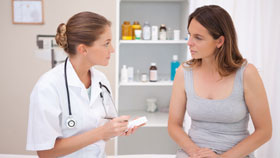 The digestive system includes all parts of the body that process food and expel waste, from your mouth to the end of your digestive tract. Diseases of the gastrointestinal tract prevent your body from effectively using the food yo...
u eat. Learn more about digestive health from our experts.
More