Dysphagia, or swallowing disorders, can be caused by various neurological disorders such as Parkinson's disease, multiple sclerosis and stroke, or by structural changes in the mouth, throat or neck due to cancer, burns, surgery, medications, radiation or chemotherapy, poor or no dentition or prolonged dependency on a ventilator. Swallowing problems are not only bothersome, but can be very serious. They can lead to weight loss, malnutrition, dehydration, decreased strength, loss of function, greater susceptibility to disease, aspiration pneumonia and respiratory distress.
Having trouble swallowing (dysphagia) is a symptom that accompanies a number of neurological disorders. The problem can occur at any stage of the normal swallowing process as solid and liquid food items move from the mouth, down the back of the throat, through the esophagus and into the stomach. Difficulties can range from a total inability to swallow to aspiration (coughing or choking because the food item is entering the windpipe). When aspiration is frequent, a person can be at risk of developing pneumonia. Food may get "stuck" in the throat, or individuals may drool because they cannot swallow their saliva.
Neurological conditions that can cause swallowing difficulties are as follows: stroke (the most common cause of dysphagia), traumatic brain injury, cerebral palsy, Parkinson's disease and other degenerative neurological disorders, such as amyotrophic lateral sclerosis (ALS, also known as Lou Gehrig's disease), multiple sclerosis (MS), progressive supranuclear palsy, Huntington's disease and myasthenia gravis. Muscular dystrophy and myotonic dystrophy are accompanied by dysphagia, which is also the cardinal symptom of oculopharyngeal muscular dystrophy, a rare, progressive genetic disorder.
This answer is based on source information from the National Institute of Neurological Disorders and Stroke.
Swallowing disorders, known as dysphagia, occur when a person's swallowing function is not working properly. The ability to swallow is a biological function that most people take for granted. But when an illness or injury occurs, swallowing may no longer be an automatic process. Swallowing is regulated by the brain and requires precise muscle control. When this function is out of sync, a person may have dysphagia, or trouble swallowing.
Occasional dysphagia, which can occur when a person eats too fast, usually is not cause for concern. But chronic dysphagia is troublesome. It is often a symptom or an outcome of a medical condition that requires treatment.
Continue Learning about Digestive Health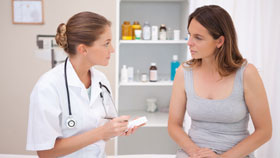 The digestive system includes all parts of the body that process food and expel waste, from your mouth to the end of your digestive tract. Diseases of the gastrointestinal tract prevent your body from effectively using the food yo...
u eat. Learn more about digestive health from our experts.
More