Within the liver there's a network of bile ducts; bile is greenish liquid produced in the liver that helps break down fats. The liver also uses bile to clear bilirubin from the blood. Biliwhat, you say? Bilirubin-it's a substance that comes from the breakup of hemoglobin of dead red blood cells. An increased level of bilirubin results in jaundice (a yellowing of the skin and all mucous membranes-that includes the eyeballs where the yellowing is usually detected earliest and easiest), a sign of many liver diseases.
Continue Learning about Digestive Health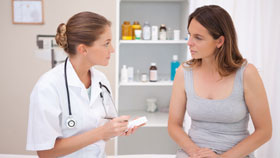 The digestive system includes all parts of the body that process food and expel waste, from your mouth to the end of your digestive tract. Diseases of the gastrointestinal tract prevent your body from effectively using the food yo...
u eat. Learn more about digestive health from our experts.
More