A fissure is a cut or a tear at the edge of the anal opening, says Stephanie Wishnev, MD, a colorectal surgeon at MountainView Hospital. In this video, she says fissures are often caused by hardened stool.
An anal fissure is a small tear in the lining of the anus. It may cause pain, bleeding, or itching.

A hard, dry bowel movement may cause a tear in the anal lining, resulting in a fissure. Other causes of a fissure include diarrhea, inflammation of the anorectal area, or spasms of the anal musculature.
Jared Frattini, MD from Medical Center of Trinity explains what an anal fissure is in this video. Watch to learn more.
Anal fissure are tears in the opening area. It often causes pain especially after bowel movements and sometimes associated with bleeding. Patients often complain of being afraid to go to the bathroom due to the spasmodic pain they get afterwards. This is most often assumed by patients to be "hemorrhoids". There are a variety of treatments that are effective. If a fissure is suspected, it is advisable to see a colorectal surgeon.
Fissures are basically a tear in the lining of the anus. Signs and symptoms include blood in the stool or on the toilet paper, and pain both during and after the passage of stool. Anal fissures are caused by constipation as well as spasm of the anal sphincter, although large non-healing fissures can also be seen with Crohn's disease.
Tears that occur in the lining of the anus are called anal fissures. This condition is most commonly caused by constipation and passing hard stools, although it may also result from diarrhea or inflammation in the anus. In addition to causing bleeding from the rectum, anal fissures may also cause a lot of pain during and immediately after bowel movements.
Continue Learning about Digestive Health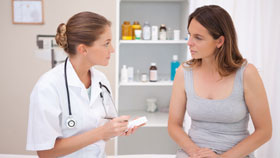 The digestive system includes all parts of the body that process food and expel waste, from your mouth to the end of your digestive tract. Diseases of the gastrointestinal tract prevent your body from effectively using the food yo...
u eat. Learn more about digestive health from our experts.
More