Generally, the treatments for duodenal ulcers are very effective, some healing ulcers in 4-8 weeks. The primary treatment of duodenal ulcers is antibiotics and medications that reduce stomach acid. Because duodenal ulcers are caused by bacteria, antibiotics are used to fight that bacteria. A number of medications designed to reduce stomach acids are also used. These medications can ease symptoms because stomach acid does not come into contact with the sore. Further, reducing acid helps ulcers heal faster. Some of the acid-neutralizing and acid reducing drugs are as follows: antacids (like sodium bicarbonate and magnesium hydroxide), acid-reducing drugs like proton pump inhibitors and histamine blockers, and drugs that coat the stomach or make the stomach lining stronger, like sucralfate and misoprostol.
In some cases, surgery is needed to address an ulcer complication, though the technique is rarely used to treat an ulcer alone. Ulcer complications that require surgery include frequently bleeding ulcers and ulcers that continue to occur regardless of treatment by medicines.
Continue Learning about Digestive Health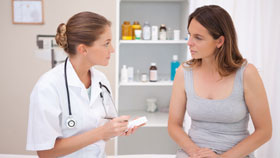 The digestive system includes all parts of the body that process food and expel waste, from your mouth to the end of your digestive tract. Diseases of the gastrointestinal tract prevent your body from effectively using the food yo...
u eat. Learn more about digestive health from our experts.
More