Some regurgitation of stomach contents is normal. But excessive reflux of acid can cause the lining of the esophagus to erode and ulcer (esophagitis) that may, in some people, cause permanent changes to the cells. This condition is known as Barrett's esophagus and in rare cases, it can progress to cancer. Beside heartburn, symptoms of esophageal damage may include regurgitation, difficulty swallowing, persistent cough, hoarseness and chest pain. When heartburn attacks occur more than twice a week, doctors call it gastrointestinal reflux disease or GERD.
Continue Learning about Digestive Health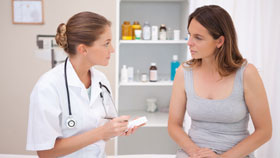 The digestive system includes all parts of the body that process food and expel waste, from your mouth to the end of your digestive tract. Diseases of the gastrointestinal tract prevent your body from effectively using the food yo...
u eat. Learn more about digestive health from our experts.
More